Practice
Guidelines
Diagnosis and management of diabetes in children and young people: summary of updated NICE guidance
BMJ
2016
;
352
doi: https://doi.org/10.1136/bmj.i139
(Published 27 January 2016)
Cite this as:

BMJ

2016;352:i139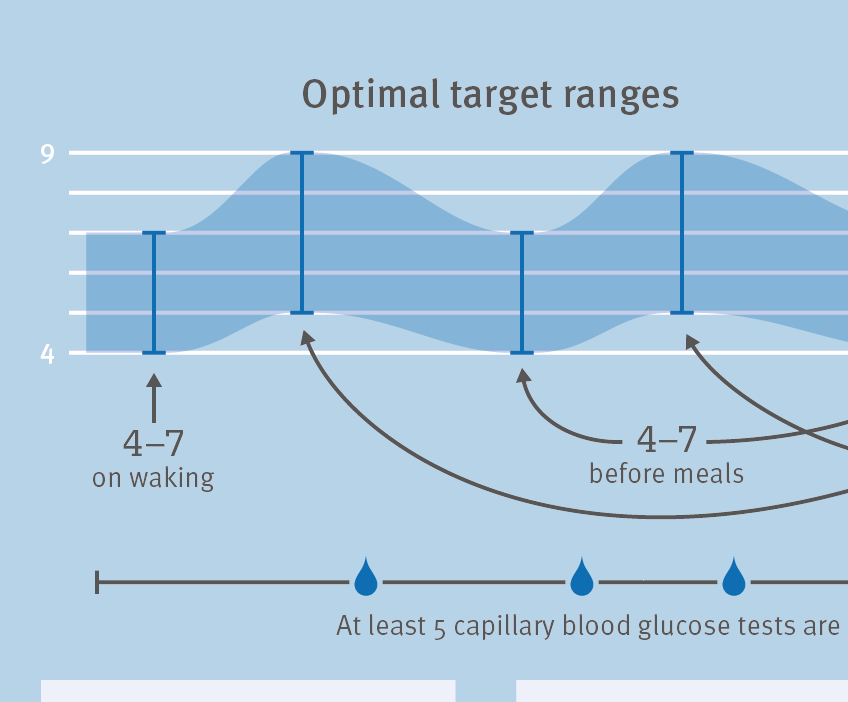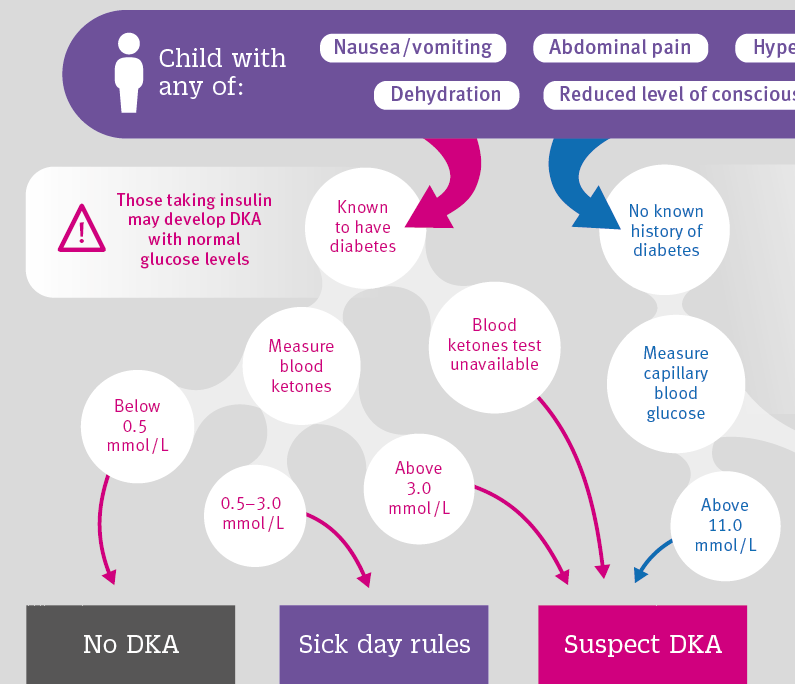 Zosia L Beckles

, information scientist

1,

Julie A Edge

, consultant in paediatric diabetes

2,

Moira A Mugglestone

, director

1,

M Stephen Murphy

, clinical director for children's health

1,

Jerry K H Wales

, director of endocrinology and professor

3
On behalf of the Guideline Development Group
1National Collaborating Centre for Women's and Children's Health, Royal College of Obstetricians and Gynaecologists, London NW1 4RG, UK
Correspondence to: M A Mugglestone

mmugglestone{at}rcog.org.uk
What you need to know
Immediately refer any child or young person with suspected type 1 diabetes characterised by random plasma glucose >11 mmol/L, polyuria, polydipsia, weight loss, excessive tiredness, or DKA to a multidisciplinary paediatric diabetes team

Agree an individualised lowest achievable HbA1c target, taking into account daily activities, life goals, complications, comorbidities, and, in type 1 diabetes, the risk of hypoglycaemia

For type 1 diabetes, offer multiple daily injection basal-bolus insulin regimens with level 3 carbohydrate counting education from diagnosis, provide blood ketone testing strips and a meter, and advise testing for ketonaemia if the child is ill or has hyperglycaemia

For type 2 diabetes, offer standard release metformin from diagnosis
Type 1 diabetes affects more than 25 000 children and young people in the United Kingdom and type 2 affects about 500, with both types becoming more common.1 Life threatening complications, including diabetic ketoacidosis (DKA), can occur with both type 1 and type 2 diabetes. Prompt recognition and effective management of diabetes and associated complications are essential. This article summarises new recommendations from the National Institute for Health and Care Excellence (NICE), which for the first time cover type 2 diabetes and the recognition and management of DKA in children and young people.2
What's new in this guidance?
A reduced ideal HbA1c target

Multiple daily injection basal-bolus insulin regimens from diagnosis for type 1 diabetes

Management of type 2 diabetes

Recognition and management of DKA
Recommendations
NICE recommendations are based on systematic reviews of best available evidence and explicit consideration of cost effectiveness. When minimal evidence is available, recommendations are based on the Guideline Development Group's experience and opinion of what constitutes good practice. Evidence levels for the recommendations are given in italic in square brackets.
Overcoming barriers
The ideal HbA1c target of 48 mmol/mol (6.5%) or lower may be perceived as difficult to achieve. The GDG took account of this by recommending that targets should be individualised while emphasising that lowering HbA1c reduces the risk of long term complications.

Timely and ongoing access to mental health professionals with an understanding of diabetes was recommended in the original (2004) guideline but the GDG recognised that it was still not universally available, leading the group to identify this as a key priority for implementation.

Recommendations related to composition of, and 24 hour access to, the diabetes team are important for generalists to be aware of, to promote implementation of other recommendations. Similarly, effective arrangements for transition from paediatric to adult care are emphasised because they will support continuity of care.

A lack of recommendations on drugs for type 2 diabetes other than metformin may be perceived as an omission. The guideline scope did not, however, include consideration of other treatments, such as insulin (which would require highly specialised management). Metformin is the first line treatment and other agents should be considered only in the context of clinical trials.
How patients were involved in the creation of this article
The GDG for this update included lay members who contributed to the formulation of the recommendations summarised here and the selection of key priorities for implementation (key recommendations).
Further information on the guidance
Methods
This guideline, which is an update of the National Institute for Health and Care Excellence (NICE) 2004 guideline CG15, was developed by the National Collaborating Centre for Women's and Children's Health (NCC-WCH) in collaboration with the Guideline Development Group (GDG). The group consisted of three paediatric diabetologists, two paediatric diabetes specialist nurses, a general practitioner, a dietitian, and two lay members. For certain topics a clinical psychologist and a paediatric intensivist were co-opted as expert advisers.
The GDG developed protocols to answer 47 review questions linked to clinical topics identified in the guideline scope. To this end, the NCC-WCH technical team identified and analysed clinical and health economic evidence in accordance with NICE's 2012 guidelines manual,6 using systematic literature searches, appraisal of evidence quality according to the GRADE approach, and pair-wise meta-analysis of clinical data where appropriate. Health economic analysis was undertaken for certain prioritised areas. The GDG then developed recommendations based on the evidence presented by the technical team, which were ratified after consultation with registered stakeholders.
Four versions of this guideline are available: the full guideline,7 a summary known as the NICE or short version of the guideline,2 a lay version related to type 1 diabetes,8 and a lay version related to type 2 diabetes.9 A clinical pathway is also available on the NICE website.10 The recommendations summarised here are specific to diabetes or diabetic ketoacidosis (DKA) (or both) in children and young people. Other NICE guidelines provide recommendations for diagnosis or management (or both) of type 1 diabetes in adults,11 type 2 diabetes in adults,12 diabetes in pregnancy,13 and diabetic foot problems.14
Future updates of the guideline will be produced as part of NICE's guideline development programme.
Future research
What is the effectiveness of education programmes in which young people with type 1 diabetes provide training for their peers?

What is the optimal upper limit and timing for blood glucose measurements after meals for children and young people with type 1 diabetes to reach an HbA1c level of 48 mmol/mol (6.5%) without unacceptable hypoglycaemia?

What is the impact of educating children and young people with type 1 diabetes and their family members or carers (as appropriate) about their glycaemic index from diagnosis?

What are the long term comparative clinical effectiveness and cost effectiveness of different metformin preparations for treating type 2 diabetes in children and young people?

What is the optimal dosage of intravenous insulin for managing DKA in children and young people?
Guidelines into practice
Have all children and young people with suspected or confirmed diabetes been referred on the same day to a multidisciplinary paediatric diabetes team?

Have children and young people with diabetes and their parents or carers been supplied with the appropriate test strips, meters, and other equipment, as recommended by the diabetes team, to optimise diabetes control?
Notes
Cite this as: BMJ 2016;352:i139
Footnotes
Members of the Guideline Development Group: Francesca Annan, Jo Dalton, Jaqueline Double, Sarah Eaton, Julie Edge (chair, DKA subgroup), Nikhil Gokani, William Lamb, Carol Metcalfe (member from June 2014), Claire Pesterfield (member until March 2014), Jerry Wales (chair). The NCC-WCH technical team included Zosia Beckles, Moira Mugglestone, and M Stephen Murphy.

Contributors: All authors were involved in selecting recommendations to be highlighted in the article. ZLB prepared the initial draft for the methods and future research sections and MAM prepared the initial draft for the remaining sections. All authors reviewed the initial drafts, were involved in revisions before and after submission, and agreed the final version. All authors agreed to be accountable for all aspects of the work. MAM is guarantor.

Funding: ZLB, MAM, and MSM are employees of the Royal College of Obstetricians and Gynaecologists, which is commissioned and funded by NICE to develop clinical guidelines. No authors received specific funding from NICE to write this summary.

Competing interests: We declare the following interests based on NICE's policy on conflicts of interests (available at www.nice.org.uk/Media/Default/About/Who-we-are/Policies-and-procedures/code-of-practice-for-declaring-and-managing-conflicts-of-interest.pdf). JAE has received payment from the British National Formulary for Children and Practical Diabetes for writing on type 1 diabetes; from the International Society for Pediatric and Adolescent Diabetes (ISPAD), from the International Diabetes Federation (IDF), the Australia Paediatric Society, Diabetes UK, and Novo Nordisk for travel expenses; and from the University of York as an invited speaker. JAE's employer has received payment from Oxford Medical Diagnostics for a research project on a device not directly linked to any of the topics in the guideline scope, from Aventis, Novo Nordisk, and Roche for sponsorship of educational meetings, and from the British Heart Foundation, Diabetes UK, the Juvenile Diabetes Research Foundation (JDRF), and the National Institute for Health Research Comprehensive Clinical Research Network (NIHR CCRN) for research projects. JAE held managerial responsibility for departmental funding from Advanced Therapeutics, Animas/LifeScan, Glucomen, Lilly, Novo Nordisk, Roche, and Aventis for sponsorship of educational meetings. JAE is chief investigator on a study of a new glucose sensor funded by Abbot Diabetes Care. JAE has attended a half day training course organised by Medtronic about continuous intravenous insulin therapy pumps. JKHW's former employer (Sheffield Children's Hospital Foundation Trust) has received payment from Merck Sharp & Dohme (MSD) and Parexel through the Medicines for Children Research Network (MCRN) for JKHW's participation in research projects. JKHW was a joint chief investigator on a project funded by Diabetes UK but received no money directly. The authors' full statements can be viewed at www.bmj.com/content/bmj/352/bmj.i139/related#datasupp.

Provenance and peer review: Commissioned; not externally peer reviewed.
View Abstract