Analysis
Climate science: frequently asked questions
BMJ
2015
;
351
doi: https://doi.org/10.1136/bmj.h6216
(Published 24 November 2015)
Cite this as:

BMJ

2015;351:h6216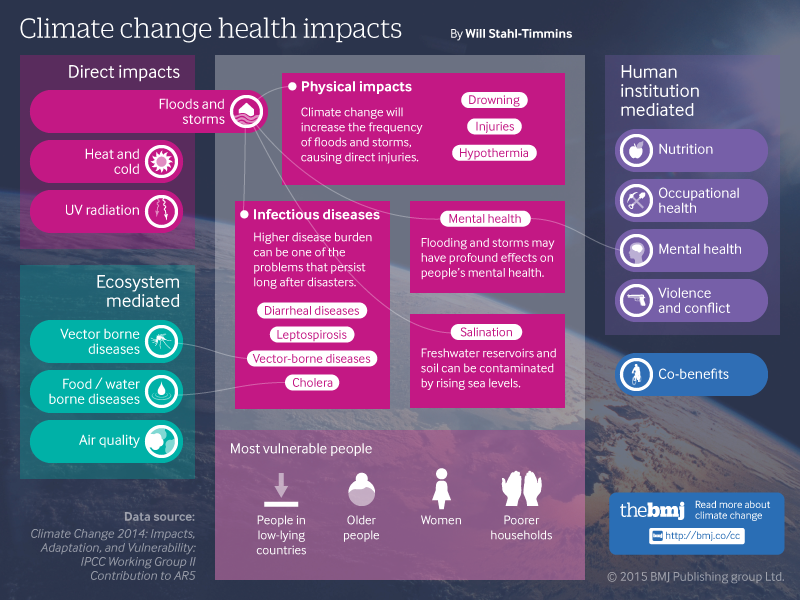 Flora Whitmarsh

, science communications research analyst

1

,

Brian Hoskins

, professor

1

,

David McCoy

, senior clinical lecturer and director

2
1Grantham Institute for Climate Change, Imperial College London, London, UK
2Department of Primary Care and Public Health, Queen Mary University London, London, UK
Correspondence to: D McCoy

d.mccoy{at}qmul.ac.uk
After The BMJ published an article on the science of anthropogenic climate change,1 it received questions about various aspects of climate science. Here we answer some of those questions. Like the original article, we draw on the findings of the fifth report of the UN commissioned Intergovernmental Panel on Climate Change (IPCC).2 The main body of the report is written by working scientists, drawing on the findings of thousands of peer reviewed scientific studies, and is the most comprehensive analysis of climate science available. Last year, the Royal Society and the US National Academy of Sciences also published a report, Climate Change: Evidence and Causes, which summarises the status of climate change science.3
How is the reported increase in Antarctic sea ice compatible with global warming?
Sea ice is not to be confused with the land based Greenland and Antarctic ice sheets, both of which are shrinking, as expected with rising temperatures. There has also been an overall global decline in mountain glaciers, permafrost, and snow cover, which is consistent with anthropogenic climate change. Whereas the extent of Arctic sea ice has decreased by 0.73-1.07 million km2 per decade since 1979, Antarctic sea ice has increased by 0.13-0.20 million km2 per decade.2
The anomaly in the Antarctic is due to its geography. Unlike in the Arctic, where the extent of sea ice is constrained by the North American and Eurasian land masses, Antarctic sea ice forms in the open ocean with less land constraining its formation. Antarctic sea ice is also thinner and mostly melts each summer, whereas Arctic sea ice survives longer (although the amount of sea ice lasting more than two years has declined rapidly since 1979). Changing patterns of …
View Full Text
Log in
Log in using your username and password
Log in through your institution
Subscribe from £138 *
Subscribe and get access to all BMJ articles, and much more.
* For online subscription
Access this article for 1 day for:
£23 / $37 / €30 (inc. VAT)
You can download a PDF version for your personal record.