Analysis
The science of anthropogenic climate change: what every doctor should know
BMJ
2014
;
349
doi: https://doi.org/10.1136/bmj.g5178
(Published 09 September 2014)
Cite this as:

BMJ

2014;349:g5178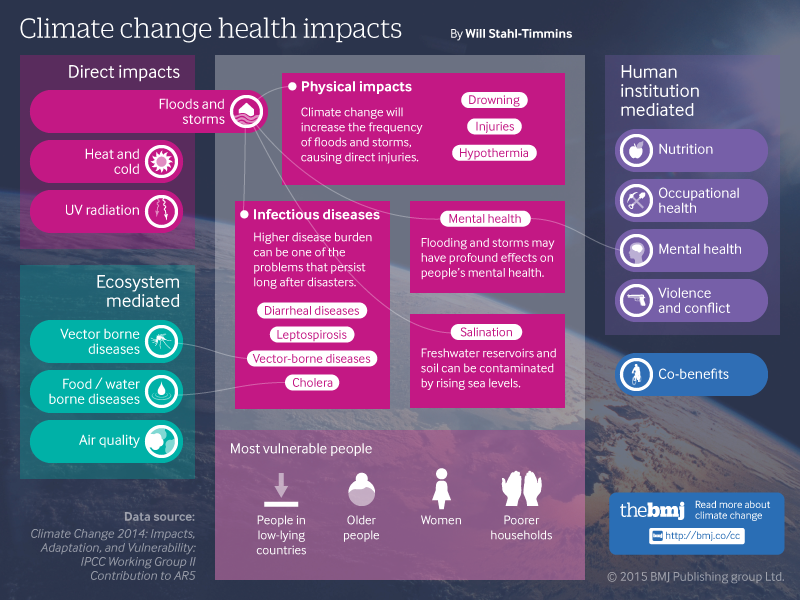 David McCoy

, senior clinical lecturer

1

,

Brian Hoskins

, professor

2
1Department of Primary Care and Public Health, Queen Mary University London, London, UK
2Grantham Institute for Climate Change, Imperial College London, London, UK
Correspondence to: D McCoy

d.mccoy{at}qmul.ac.uk
Climate change poses a serious threat to social wellbeing and human health. However, there is still considerable misunderstanding and misinformation about global warming and its relation to human activity and climate change. Doctors and health professionals, because of their professional mandate and scientific training, have a potentially important role in ensuring that climate change is properly understood by policy makers and the general public. In light of this, The BMJ asked David McCoy and Brian Hoskins to summarise the key points from a report published by scientific working group 1 of the Intergovernmental Panel on Climate Change (IPCC) on the physical aspects of the climate system and climate change.1
The IPCC is a scientific body (involving thousands of scientists from across the world) that operates under the auspices of the United Nations. Its primary function is to review, assess, and synthesise the most recent scientific, technical, and socioeconomic information relevant to the understanding of climate change. The synthesis is requested by, and presented to, the governments who are part of the UN Framework Convention for Climate Change, though it takes on a wider public importance.
Is the world warming?
The world is undoubtedly warming. This is an empirical and scientifically established fact. Combined land and ocean surface temperature data show an increase of about 0.89°C from 1901 to 2012. This is a best estimate for the increase in temperature and has a 90% confidence interval of 0.69°C to 1.08°C. For the period 1951-2012, the estimated temperature increase is 0.72 (0.49 to 0.89) °C. The past three decades have been significantly warmer than all previous decades with recorded data (fig 1⇓).
View Full Text
Log in
Log in using your username and password
Log in through your institution