Resident Medical Officer (SMHS)
Employer

Location

Perth (Region), Western Australia (AU); Peel (Region), Western Australia (AU)

Salary

MP Year 1-3 $91,458 - $109,650 p.a. pro rata

Closing date

31 Jan 2024
View more
Profession

Contract Type

Hours
Job Details
Beautiful beaches, big blue skies, sunshine and an amazing outdoors lifestyle - in combination with an exceptional and rewarding medical opportunity. Interested in an opportunity starting 2023/2024?
Exceptional learning and experience opportunities across the South Metropolitan Health Service (SMHS); including the modern $2 billion dollar flagship tertiary Fiona Stanley Hospital, the port city-located Fremantle Hospital (with more than 1000 beds across these two sites); Rockingham General Hospital, our large regional general hospital, and Peel Health Campus which joins the SMHS in 2024.
The well-established Medical Education unit offers a wide curriculum of education and professional development opportunities and individually focussed wellbeing support to all our doctors.
We are happy to discuss and support international candidates with a range of visa options according to your requirements. For more information on employment visas, you can visit the Department of Home Affairs website; or contact one of our Deputy Directors of Clinical Services, Dr Barbara King or Dr Gillian Scott via the contact details below.
Generous leave benefits include; 4 weeks annual leave, up to 1 week additional leave, 3 weeks professional development leave and long service leave accruals.
Offering newborn to geriatric care, our services include the states specialist services in Rehabilitation and Burns; plus Advanced Lung Disease, multiple transplant services (including cardiac, lung, renal), Obstetrics and Gynaecology, Adult and Paediatric Emergency, Mental Health, Neonates, Paediatrics, Cardiology, Endocrinology, Gastroenterology, Geriatrics, Haematology, Infectious Diseases, Medical Oncology, Nephrology, Neurology, Rehabilitation, Respiratory Medicine, Rheumatology, the ALERT prevention of deterioration service, Intensive Care Cardiothoracic Surgery, General Surgery, Ophthalmology, Orthopaedics, Urology and more.
A base salary of $91,458 - $109,650 p.a. pro rata, plus 11% superannuation and allowances (these rates are applicable at 1 July 2023); and access to generous salary packaging.
Relocation incentives for experienced interstate and international RMOs are also available (information below).
The successful team member will have the chance to:
develop clinical and leadership skills from leaders in Australian healthcare,
be involved and contribute within our friendly and energetic multidisciplinary teams,
learn leadership skills; and
engage in ongoing learning and education, that is provided with continuous improvement and practice challenges that come from working as an integral team member within different specialties and services.
If you are looking for a refreshing change, opportunity to develop your career and be part of a team providing excellent health care, this could be for you.
Hear what it's like to work with us from our junior medical staff in the video below.

If you're located in other parts of Australia or overseas, you're encouraged to follow in the footsteps of many of our RMOs who have decided to make WA their home. Read about the recently updated relocation incentives available via the Belong campaign, which applies to experienced interstate and international medical officers relocating to WA and has been extended to 30 June 2024. Find information for prospective applicants/employees.
There are current opportunities available, and we are looking for RMOs to start with us in 2023/2024. To apply, just follow our easy application instructions below.
Please note: this process is for SMHS job opportunities starting in 2023/2024.
Our Values guide our work in every action, and that includes recruitment and employment. We encourage Aboriginal people, people from culturally and linguistically diverse backgrounds, LGBTQIA+ people, and people with disability to work with us.
Want to know more? We encourage you to contact Dr Barbara King or Dr Gillian Scott, Deputy Directors Clinical Services via email at JMOcareers@health.wa.gov.au
Application instructions
Your application should include:
A cover letter of no more than three (3) pages addressing the following criteria –
Demonstrated ability to communicate effectively with patients, families, carers, colleagues and others involved in health services in order to facilitate the provision of high-quality health care.
Demonstrated organisational and time management skills to provide safe, timely patient-centered care.
Demonstrated participation in continuing medical education activities to maintain and upgrade knowledge and skills.
Commitment to safety and quality in healthcare through awareness of safe clinical practice within own limitations, and continuous improvement of patient outcomes.
A current CV of no more than four (4) pages (which clearly demonstrates your clinical and procedural experience as a medical practitioner for > 6 months in an Australian or comparable hospital setting within the last 3 years.*
*Comparable hospital settings are listed in the attached "Western Australia Health - comparable hospital settings" document
A one-page statement of your citizenship, or residency status – noting that visa sponsorship opportunities will be available for eligible applicants; plus
eligibility for registration with the Medical Board of Australia (and medical qualifications); or current Medical Board of Australia registration information.
Plus, a copy of your AMC certificate, and English Competency examinations (for international and temporary visa holders only).
This is an "open-ended" recruitment pool, and as such the following should be noted:
The recruitment panel will monitor this recruitment pool for applications and will assess on a regular basis.
Suitable applicants will be placed in a pool from which appointments may be made when similar vacancies occur.
Appointments may be made from this pool until 15/06/2024.
Apply by clicking Apply Now button
Company
South Metropolitan Health Service

At SMHS we deliver quality, safe and effective hospital services within a catchment area stretching 3,300 square kilometres across the southern half of Perth.
We are dedicated and committed to delivering excellent health care, every time. We set out to achieve this with a strong set of values of Care, Integrity, Respect, Excellence and Teamwork.
Our hospital network includes:
Fiona Stanley Hospital
Fremantle Hospital
Rockingham General Hospital
Murray District Hospital
Peel Health Campus (transitioning to SMHS in 2024)
Our network of hospitals and community-based health services work closely with our community partners including GPs, local government and population health services to enhance the recovery and rehabilitation outcomes of our patients and clients.

The single streamlined governance structure of SMHS helps to ensure greater integration between our hospitals and health services, with better access and flow for patients within and across specialty areas.
About Fiona Stanley Fremantle Hospitals Group
Fiona Stanley Fremantle Hospitals Group
Fiona Stanley Fremantle Hospitals Group (FSFHG) comprises:
Fiona Stanley Hospital
Fremantle Hospital
Rottnest Island Nursing Post
Fiona Stanley Hospital
Fiona Stanley Hospital is the major tertiary hospital in the south metropolitan area and offers comprehensive health care services to adults, youth and children. It has 783 beds and offers:
Acute, general and specialist medical and surgical services
Subacute services including rehabilitation and aged care
Comprehensive cancer services
State adult burns unit
State rehabilitation service including ventilator dependent quadriplegic service and spinal outreach service
State heart, lung, and bone marrow transplant service
Renal transplant
Emergency and intensive care
Mental health
Maternity, paediatric and neonatal services.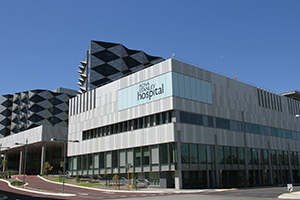 Fremantle Hospital
Providing specialist hospital services, Fremantle Hospital plays a vital role in supporting the tertiary services of Fiona Stanley Hospital and delivers specialist services including mental health, aged care, and elective surgical services in the following specialties:
general medicine
geriatric medicine, including subacute services and rehabilitation
general surgery
orthopaedics
plastic surgery
specialised hand surgery
ear, nose and throat (ENT)
gynaecological
dental and maxillo-facial
endoscopy
ophthalmology
urology
vascular

About Rockingham Peel Group
Rockingham Peel Group
Rockingham Peel Group (RkPG) comprises:
Rockingham General Hospital
Murray District Hospital
Mandurah Community Health Centre
Kwinana Community Health
Rockingham Community Mental Health Service
Peel Community Mental Health Service.
Rockingham General Hospital
As a general hospital with an emergency department, it supports the following inpatient services:
acute and general medicine
geriatric medicine
palliative care
paediatrics
obstetric and neonatal services
surgical including ENT, gastroenterology, general, gynaecology, orthopaedic, plastics and paediatric (general)
intensive care
psychiatry (adult and older adult), including electroconvulsive therapy.
Murray District Hospital
As a small specialist hospital, Murray District Hospital located in Pinjarra provides aged care services, particularly to people awaiting rehabilitation and end-of-life-care. Medical care is provided by medical staff from Rockingham General Hospital and local GPs credentialed with admitting rights. Support services delivered at the hospital include medical imaging and allied health.

Community Mental Health Services (Rockingham and Peel)
These services provide a comprehensive range of services and programs for individuals, families and groups including assessments, care planning, support and education, and rehabilitation programs.
Peel Health Campus Transformation
Peel Health Campus (PHC) provides a suite of general hospital services including emergency, medical, surgical, maternity, aged care, rehabilitation, and oncology.

In late 2020 the WA Government announced that full operation of PHC would transfer to SMHS from August 2023. This is an important step in providing people living in the Peel-Murray region with a range of local health care options.

Website
https://www.wa.gov.au/service/employment/human-resources-development/find-job-the-wa-government

Company Information
South Metropolitan Health Service - Career opportunities
Company info
Get job alerts
Create a job alert and receive personalised job recommendations straight to your inbox.
Create alert
Similar jobs
Tararua, Manawatu-Wanganui (NZ)