South Metropolitan Health Service
Website
South Metropolitan Health Service

At SMHS we deliver quality, safe and effective hospital services within a catchment area stretching 3,300 square kilometres across the southern half of Perth.
We are dedicated and committed to delivering excellent health care, every time. We set out to achieve this with a strong set of values of Care, Integrity, Respect, Excellence and Teamwork.
Our hospital network includes:
Fiona Stanley Hospital
Fremantle Hospital
Rockingham General Hospital
Murray District Hospital
Peel Health Campus (transitioning to SMHS in 2024)
Our network of hospitals and community-based health services work closely with our community partners including GPs, local government and population health services to enhance the recovery and rehabilitation outcomes of our patients and clients.

The single streamlined governance structure of SMHS helps to ensure greater integration between our hospitals and health services, with better access and flow for patients within and across specialty areas.
About Fiona Stanley Fremantle Hospitals Group
Fiona Stanley Fremantle Hospitals Group
Fiona Stanley Fremantle Hospitals Group (FSFHG) comprises:
Fiona Stanley Hospital
Fremantle Hospital
Rottnest Island Nursing Post
Fiona Stanley Hospital
Fiona Stanley Hospital is the major tertiary hospital in the south metropolitan area and offers comprehensive health care services to adults, youth and children. It has 783 beds and offers:
Acute, general and specialist medical and surgical services
Subacute services including rehabilitation and aged care
Comprehensive cancer services
State adult burns unit
State rehabilitation service including ventilator dependent quadriplegic service and spinal outreach service
State heart, lung, and bone marrow transplant service
Renal transplant
Emergency and intensive care
Mental health
Maternity, paediatric and neonatal services.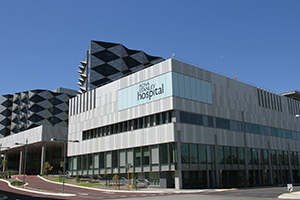 Fremantle Hospital
Providing specialist hospital services, Fremantle Hospital plays a vital role in supporting the tertiary services of Fiona Stanley Hospital and delivers specialist services including mental health, aged care, and elective surgical services in the following specialties:
general medicine
geriatric medicine, including subacute services and rehabilitation
general surgery
orthopaedics
plastic surgery
specialised hand surgery
ear, nose and throat (ENT)
gynaecological
dental and maxillo-facial
endoscopy
ophthalmology
urology
vascular

About Rockingham Peel Group
Rockingham Peel Group
Rockingham Peel Group (RkPG) comprises:
Rockingham General Hospital
Murray District Hospital
Mandurah Community Health Centre
Kwinana Community Health
Rockingham Community Mental Health Service
Peel Community Mental Health Service.
Rockingham General Hospital
As a general hospital with an emergency department, it supports the following inpatient services:
acute and general medicine
geriatric medicine
palliative care
paediatrics
obstetric and neonatal services
surgical including ENT, gastroenterology, general, gynaecology, orthopaedic, plastics and paediatric (general)
intensive care
psychiatry (adult and older adult), including electroconvulsive therapy.
Murray District Hospital
As a small specialist hospital, Murray District Hospital located in Pinjarra provides aged care services, particularly to people awaiting rehabilitation and end-of-life-care. Medical care is provided by medical staff from Rockingham General Hospital and local GPs credentialed with admitting rights. Support services delivered at the hospital include medical imaging and allied health.

Community Mental Health Services (Rockingham and Peel)
These services provide a comprehensive range of services and programs for individuals, families and groups including assessments, care planning, support and education, and rehabilitation programs.
Peel Health Campus Transformation
Peel Health Campus (PHC) provides a suite of general hospital services including emergency, medical, surgical, maternity, aged care, rehabilitation, and oncology.

In late 2020 the WA Government announced that full operation of PHC would transfer to SMHS from August 2023. This is an important step in providing people living in the Peel-Murray region with a range of local health care options.

Website
https://www.wa.gov.au/service/employment/human-resources-development/find-job-the-wa-government

Company Information
South Metropolitan Health Service - Career opportunities
Get job alerts from South Metropolitan Health Service straight to your inbox
South Metropolitan Health Service
Perth (Region), Western Australia (AU); Peel (Region), Western Australia (AU)
MP Year 1-3 $91,458 - $109,650 p.a. pro rata

Resident Medical Officer required. Excellent opportunity to develop your career & be part of a team providing excellent healthcare.

View details

about Resident Medical Officer (SMHS)