Research
Relaxation of the one child policy and trends in caesarean section rates and birth outcomes in China between 2012 and 2016: observational study of nearly seven million health facility births
BMJ
2018
;
360
doi: https://doi.org/10.1136/bmj.k817
(Published 05 March 2018)
Cite this as:

BMJ

2018;360:k817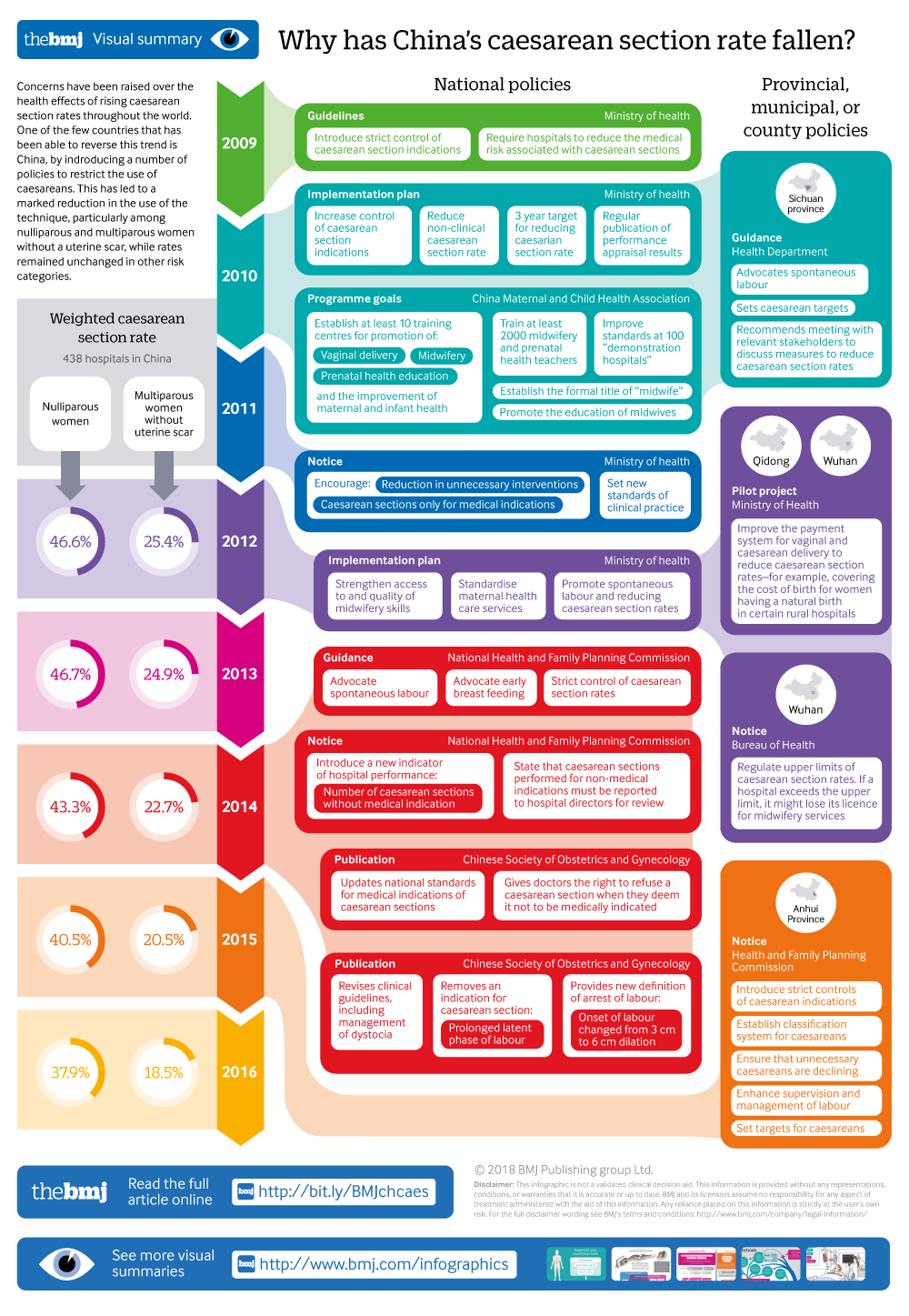 Infographic available
Click here for a visual overview of the falling rate of caesarean sections in China.
All rapid responses
Rapid responses are electronic letters to the editor. They enable our users to debate issues raised in articles published on thebmj.com. Although a selection of rapid responses will be included online and in print as readers' letters, their first appearance online means that they are published articles. If you need the url (web address) of an individual response, perhaps for citation purposes, simply click on the response headline and copy the url from the browser window. Letters are indexed in PubMed.
It is stated by Juan Liang and co-workers that "Overuse of caesarean section (SC) adversely affects the health of the mother and the child" [1] with references to [2,3]. However, there are no such or similar statements in [2,3]. The first sentence of [2] reads: "Caesarean delivery can improve maternal and child health" [2]. It is also pointed out that "much of the evidence linking caesarean delivery to chronic disease is observational" [2]. The commentary [3] concludes: "Given the lack of evidence for substantial benefit from elective CS and the possibility of substantial harm, research is also needed" and "From a different perspective, many are arguing about the need for a trial comparing elective SC versus an attempt to deliver vaginally" [3], which can be agreed with.
The well-known advantage of elective CS is the relatively low risk of foetal injury and negative association of neonatal mortality and morbidity in term pregnancy [4]. Some reports on enhanced maternal morbidity/mortality may be biased as they confound CS with diseases related to maternal death that do not depend on the mode of delivery [5,6]. Therefore, CS may be a potential marker for pre-existing morbidities rather than a risk factor of itself [7]. In a logistic regression model adjusted for 5 maternal age groups and severe preeclampsia, women who had CS were not at significantly higher risk for pregnancy-related death compared to those who had vaginal delivery [7]. Moreover, in regard to certain maternal complications e.g. pelvic floor injury and postpartum urinary incontinence elective CS was reported to be protective compared to vaginal delivery and emergent CS [8,9].
Finally, CS facilitates tubal sterilization. It should be mentioned that tubal ligation has been associated with a decreased risk of endometrioid and serous ovarian cancers [10], that female sterilization probably has a positive impact upon sexuality (unless the woman has been ambivalent over the procedure) [11], and that the majority of women are pleased with their decision to be sterilized [12]. Admittedly, CS as a form of delivery is associated with a higher risk in areas with limited medical facilities; however, surgical procedures generally tend to improve. In the author's opinion, CS with tubal sterilization should be considered for women not planning further pregnancies, which is of particular importance for populations with excessive birth rate [13].
References
1. Juan Liang, Yi Mu, Xiaohong Li, et al. Relaxation of the one child policy and trends in caesarean section rates and birth outcomes in China between 2012 and 2016: observational study of nearly seven million health facility births. BMJ 2018;360:k817.
2. Blustein J, Liu J. Time to consider the risks of caesarean delivery for long term child health. BMJ2015;350:h2410.
3. Belizán JM, Althabe F, Cafferata ML. Health consequences of the increasing caesarean section rates. Epidemiology2007;18:485-6.
4. Machado Júnior LC, Sevrin CE, et al. Association between mode of delivery and neonatal deaths and complications in term pregnancy: a cohort study in Brazil. Minerva Pediatr 2014;66(2):111-22.
5. Kilsztajn S, Carmo MS, Machado LC Jr, et al. Caesarean sections and maternal mortality in Sao Paulo. Eur J Obstet Gynecol Reprod Biol 2007;132(1):64-9.
6. Nomura RM, Alves EA, Zugaib M. Maternal complications associated with type of delivery in a university hospital. Rev Saude Publica 2004;38(1):9-15.
7. Lydon-Rochelle M, Holt VL, Easterling TR, Martin DP. Cesarean delivery and postpartum mortality among primiparas in Washington State, 1987-1996(1). Obstet Gynecol 2001;97(2):169-74.
8. Salim R, Shalev E. Health implications resulting from the timing of elective cesarean delivery. Reprod Biol Endocrinol 2010;8:68.
9. Di Stefano M, Caserta D, Marci R, Moscarini M. Urinary incontinence in pregnancy and prevention of perineal complications of labour. Minerva Ginecologica 2000;52:307-12.
10. Walker JL, Powell CB, Chen LM, et al. Society of Gynecologic Oncology recommendations for the prevention of ovarian cancer. Cancer 2015;121:2108-20.
11. Shah MB, Hoffstetter S. Contraception and sexuality. Minerva Ginecol 2010;62:331-47.
12. Contraception by female sterilisation. Br Med J 1980;280(6224):1154-5.
13. Jargin SV. Demographical aspects of environmental damage and climate change. Climate Change 2015;1(3):158-60. https://www.researchgate.net/publication/279533880_Demographical_aspects...
Competing interests: No competing interests
06 March 2018
Sergei V. Jargin
medical reviewer
Peoples' Friendship University of Russia
Clementovski per 6-82, Moscow