Practice
Practice Pointer
Management of patients after laparoscopic procedures
BMJ
2018
;
360
doi: https://doi.org/10.1136/bmj.k120
(Published 08 February 2018)
Cite this as:

BMJ

2018;360:k120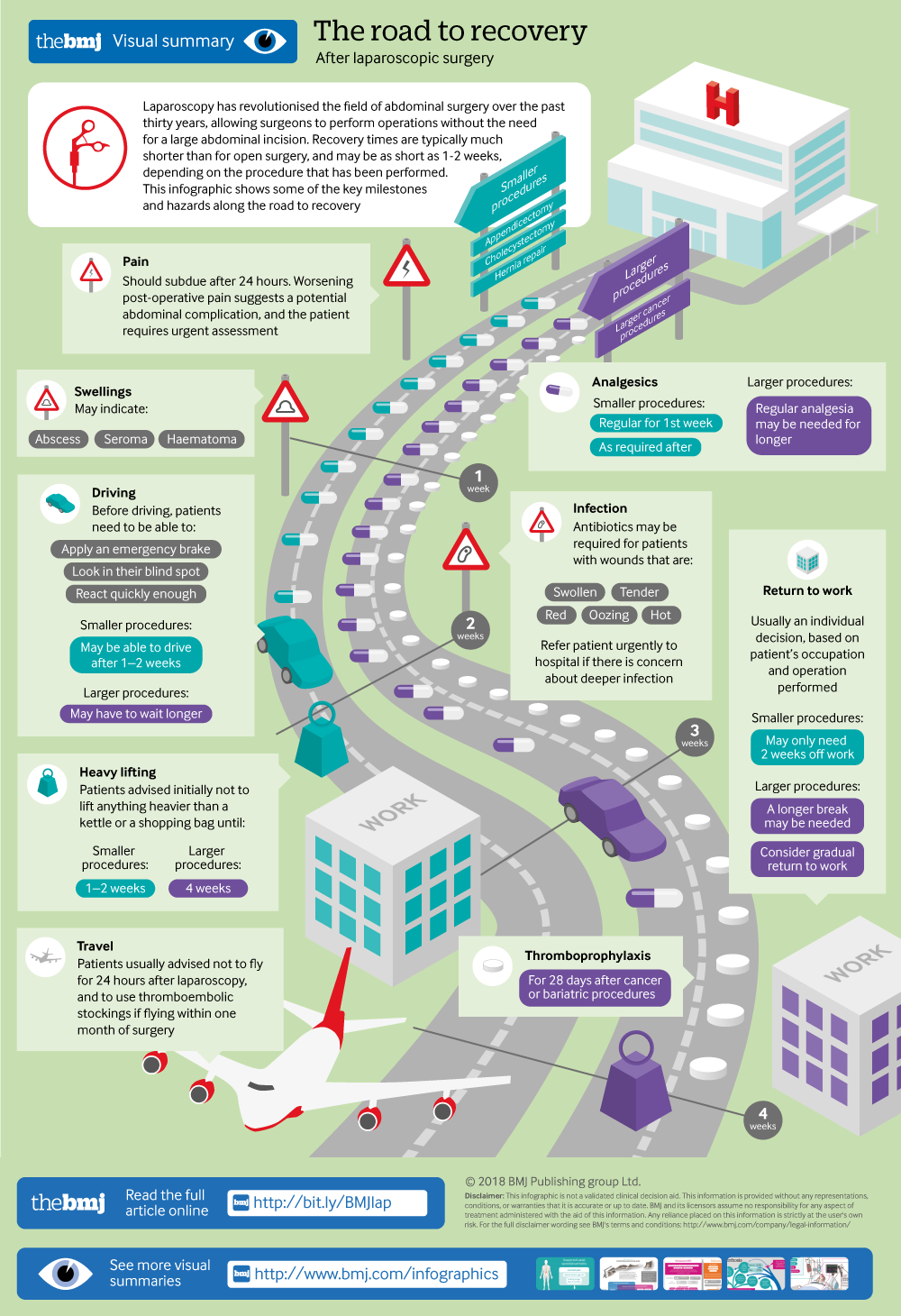 Infographic available
The road to recovery after laparoscopic surgery
Natalie S Blencowe

, National Institute for Health Research clinical lecturer and honorary specialty trainee, general surgery

1,

Richard Waldon

, senior partner

2,

Mark N Vipond

, consultant upper gastrointestinal surgeon,

, past president of the Association of Laparoscopic Surgeons of Great Britain and Ireland

3
Correspondence to M N Vipond

mark.vipond{at}nhs.net
What you need to know
The duration of recovery after laparoscopic surgery depends on the procedure performed, and can be as short as 1-2 weeks

Patients should refrain from driving until they are comfortably able to look in their blind spot and perform an emergency stop

Worsening postoperative pain suggests a potential abdominal complication, and the patient requires urgent assessment

Although most wound infections after laparoscopic surgery are superficial, some can involve the deeper tissues and might require assessment in hospital, particularly if prosthetic material has been inserted (eg, mesh)
Laparoscopy has revolutionised abdominal surgery over the past 30 years. Fifteen million laparoscopic surgical operations are performed worldwide every year, of which 10% are performed in the UK.1 Laparoscopy involves the use of cameras and specially designed instruments that enable surgeons to perform operations without making large abdominal incisions. It has gained worldwide popularity and acceptance by surgeons and patients alike. Better intraoperative visibility, minimal scarring, less pain, shorter hospital stay, and faster recovery are the main advantages of laparosocopic surgery.2 This practice pointer discusses the considerations around management of patients following laparoscopic surgical procedures. It is predominantly UK focused, although information about wound care, thromboprophylaxis, and complications should equally apply elsewhere.
Laparoscopy: what's changed?
As well as cholecystectomy, appendicectomy, and tubo-ovarian procedures, laparoscopy is now increasingly used for hysterectomy, bariatric procedures, and many gastrointestinal and urological cancer resections, and it is also possible to perform aortic aneurysm repair laparoscopically.345 Technological advances have resulted in the development of several variations on the "standard" laparoscopic approach. These are described in box 1.
Box 1
Variations on standard laparoscopic techniques
Single incision laparoscopic surgery
The surgeon operates almost exclusively through a single entry point, typically the patient's umbilicus, leaving a single scar
Natural orifice endoscopic surgery
Performed with an endoscope passed through a natural orifice (eg, mouth or anus) then through an internal incision (eg, stomach or colon), thus avoiding external incisions or scars
Robotically assisted laparoscopic surgery
Robotic systems, controlled by surgeons, are used to facilitate operations. The main perceived advantage is articulation beyond normal manipulation, resulting in improved ergonomics
Laparo-endoscopic surgery
Combination of laparoscopic and endoscopic surgery (eg, for removal of gastrointestinal polyps), eliminating the need for more major surgery (eg, bowel or stomach resection)
Hand assisted laparoscopic surgery
After initial laparoscopic examination and preparation, laparoscopic assisted surgery is performed through a small incision made over the site of the pathology. An appliance is used to maintain pneumoperitoneum, while the operator's hand is inserted through a small incision into the abdomen, to facilitate tactile sensation
RETURN TO TEXT
Enhanced recovery programmes (box 2) are multimodal perioperative care pathways designed to achieve early recovery after surgical procedures. They are increasingly popular and are ideally suited to laparoscopic surgery. There is evidence to suggest that following these protocols reduces length of hospital stay without increasing postoperative complications, when compared with standard care.6 Enhanced recovery starts and ends many weeks before and after the surgical procedure itself.
Box 2
The main elements of enhanced recovery programmes
Preoperative care
Preoperative assessment visit

Lifestyle changes: stop smoking, lose weight, reduce alcohol, increase exercise

Correct anaemia

Optimise diabetic care

Preoperative carbohydrate drinks
Admission to hospital
Admission on the day of surgery

Carbohydrate drinks and water up to two hours before surgery
Perioperative care
Use of minimally invasive techniques

Individualised fluid balance therapy

Prevention of hypothermia

Minimise use of drains and tubes
Postoperative care
Early mobilisation

Early return to eating and drinking

Early discharge planning
RETURN TO TEXT
When are patients typically discharged after laparoscopic surgery?
This depends upon the type of surgery that has been performed, and patient factors such as comorbidities. Day case procedures are becoming more common: In the UK, for example, more than 60% of patients undergoing laparoscopic cholecystectomy are now discharged on the same day.7 Discharge criteria include the ability to mobilise and control pain with simple analgesia. Although desirable, passing urine and oral intake are no longer seen as absolute requirements before discharge, except for patients considered "high risk" (such as those undergoing hernia surgery or with a previous episode of retention).8 This recommendation is based on a study of 324 participants that stratified patients according to risk of retention and permitted low risk patients to leave without voiding. In high risk patients, bladder volume was monitored by ultrasound, and patients were required to void before discharge. All low risk patients, with one exception, voided spontaneously either before or after discharge with no evidence of urinary retention. Among high risk patients, the rate of retention was 5%.9
Patients are usually provided with information leaflets about expected recovery period, emergency contact details, and follow-up schedules, although further appointments (in either primary or secondary care) are often not required after routine procedures. Where appropriate, cancer specialist nurses typically provide patients with an additional channel of communication.
Which medications are usually prescribed?
Patients are usually discharged from hospital with simple analgesia. Sometimes it is appropriate to provide medication(s) to counteract the side effects of analgesia (such as laxatives, antiemetics, or proton pump inhibitors), and thromboprophylaxis. These are provided by the operating team, and do not generally require involvement of the general practitioner.
Complications commonly seen in primary care
After "minor" laparoscopic procedures (eg, cholecystectomy, hernia repair, or smaller gynaecological procedures), patients often feel "back to normal" quite quickly. They are often eager to mobilise (although might feel tired more quickly than usual), and their appetite might be unaffected. It is important to bear these features in mind when assessing a patient after laparoscopic surgery, as a failure to improve (or a worsening of symptoms such as pain) might indicate an abdominal complication.22
Pain
Mild pain is common following laparoscopic surgery. Often, the carbon dioxide used to inflate the abdomen can remain inside, causing cramps, bloating, and shoulder tip pain. These symptoms generally subside after 24 hours. If pain worsens after this period, consider the possibility of abdominal complications. Box 3 outlines the other symptoms and signs that might suggest an intra-abdominal complication.22
Box 3
Symptoms and signs suggesting intra-abdominal complication after laparoscopic surgery
Worsening abdominal pain

Anorexia or reluctance to drink

Reluctance to mobilise

Nausea or vomiting

Tachycardia

Abdominal tenderness or distension

Poor urine output

Pyrexia
RETURN TO TEXT
Wound infection
Any wound that is red, oozing, hot, swollen, or tender might be infected, and might require antibiotic treatment. For a simple, superficial infection, select an antibiotic such flucloxacillin that covers Gram positive bacteria, including beta-lactamase organisms such as Staphylococcus aureus. This can be prescribed and managed in the community. If there is a concern about deeper infection (and especially where prosthetic material, such as a mesh, was inserted during the laparoscopic procedure), urgently refer the patient to hospital for review by the surgical team.
Distinguishing between haematoma, abscess, and seroma
These complications all cause swelling at the operative site, and have defining features that help to distinguish one from another (table 1). In cases of diagnostic doubt, ultrasound can be helpful. Seromas are often treated conservatively, while abscesses and (large) haematomas almost always require surgical intervention. Refer patients with worrying symptoms to a specialist for assessment on an urgent basis.
Other postoperative complications
Laparoscopic surgery offers many advantages; however, abdominal complications can present more subtly than after a traditional "open" operation.22 Pain might not be a predominant feature, and sometimes the only clinical sign is a slight tachycardia in otherwise normal observations. The complications themselves are almost identical, and largely depend upon the nature of the operation that has been performed. For example, division of adhesions confers the risk of bowel damage, cholecystectomy might result in leakage of bile into the peritoneal cavity, and leakage from staple lines or anastomoses can occur after surgical procedures for morbid obesity or gastrointestinal cancer surgery. The time frame in which the complication is identified and treated is most critical to its resolution. Where there is no clear evidence that the patient's condition is improving, refer the patient to hospital urgently for further investigation. Imaging and blood tests should be performed quickly at the point of hospital admission, rather than in the community, which could delay treatment. Box 3 outlines the symptoms and signs that might raise suspicion of an intra-abdominal complication.
Education into practice
After reading this article, how might you better assess patients following laparoscopic surgery?

What difficulties have you encountered when managing patients who have had laparoscopic surgery?

How did/could you overcome these?
Patient involvement
Patients were not involved in the creation of this article.
Footnotes
Competing interests: We have read and understood BMJ policy on declaration of interests and have no relevant interests to declare.

Provenance and peer review: commissioned; externally peer reviewed.

Contribution statement: NB wrote the first draft of the article. All authors contributed to revisions and approved the final version for submission.
View Abstract
Sign in
Log in using your username and password
Log in through your institution
Article Access
Article access for 1 day
The PDF version can be downloaded as your personal record