Practice
Guidelines
Parkinson's disease: summary of updated NICE guidance
BMJ
2017
;
358
doi: https://doi.org/10.1136/bmj.j1951
(Published 27 July 2017)
Cite this as:

BMJ

2017;358:j1951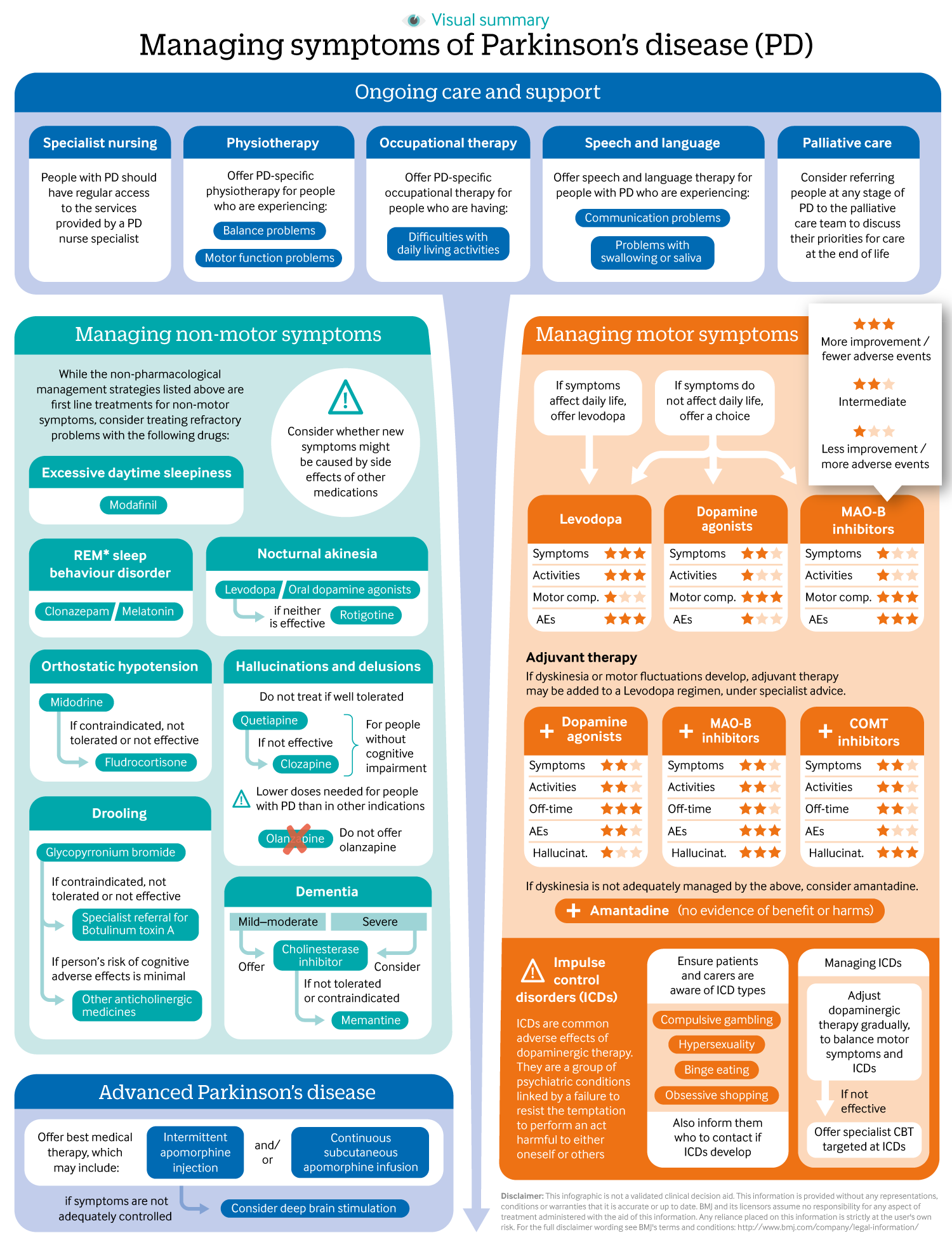 Infographic available
Click here for a visual overview of NICE guidelines on management for people with Parkinson's Disease
All rapid responses
Rapid responses are electronic letters to the editor. They enable our users to debate issues raised in articles published on thebmj.com. Although a selection of rapid responses will be included online and in print as readers' letters, their first appearance online means that they are published articles. If you need the url (web address) of an individual response, perhaps for citation purposes, simply click on the response headline and copy the url from the browser window. Letters are indexed in PubMed.
The print version includes an unlabelled image which appears to be from a DaT scan. This gives a misleading message because NICE does not recommend the routine use of DaT scans.
This otherwise excellent review omits information on DaT scans which I think have become overused. It is understandable that clinicians seek apparent objective confirmation of a clinical diagnosis. A DaT scan is usually helpful in distinguishing essential tremor (worse on posture or action, in a patient with otherwise fluid movement) from tremor in Parkinson's disease (worse at rest and inevitably in time accompanied by bradykinesia): arguably not so challenging for a clinician of modest experience. The DaT scan however distinguishes Parkinson's disease neither from Multiple Systems Atrophy nor from Progressive Supranuclear Palsy.
I suggest that clinicians considering ordering a DaT scan should instead seek the opinion of one experienced in the clinical diagnosis of Parkinson's, giving a approximately 90% cost saving (assuming £150 for a consultation and £1500 for a DaT scan).
Competing interests: I am an old-fashioned clinician concerned about the invasion of unnecessary and expensive tests into clinical practice.
Clinicians have reasonable expectations that material published in the BMJ be carefully researched and able to stand scrutiny as good clinical practice.
Infographics are a new way to help busy clinicians summarize information which may be useful in clinical practice, whether in the clinic or at the bedside.
I find disheartening, then, the small print disclaimer at the bottom of the Parkinson's infographics informing that
1. « … any reliance placed on this information is strictly at the user's own risk … »
2. « … BMJ and its licensors assume no responsibility for any aspect of treatment administered with the aid of this information … »
We may live in a litigious society, but escaping responsibility for published material calls in question the very reason of being of a medical journal (I have never seen anything like this in the NEJM or the Lancet).
I raised the same concern with regard to the article on Lassa Fever.
Competing interests: No competing interests
27 July 2017
Piero Baglioni
Physician
Centre Hospitalier Saint Jean d'Angely France
21 rue de la mer, Saint-Jean d'Y, France