Practice
Practice Pointer
Depersonalisation and derealisation: assessment and management
BMJ
2017
;
356
doi: https://doi.org/10.1136/bmj.j745
(Published 23 March 2017)
Cite this as:

BMJ

2017;356:j745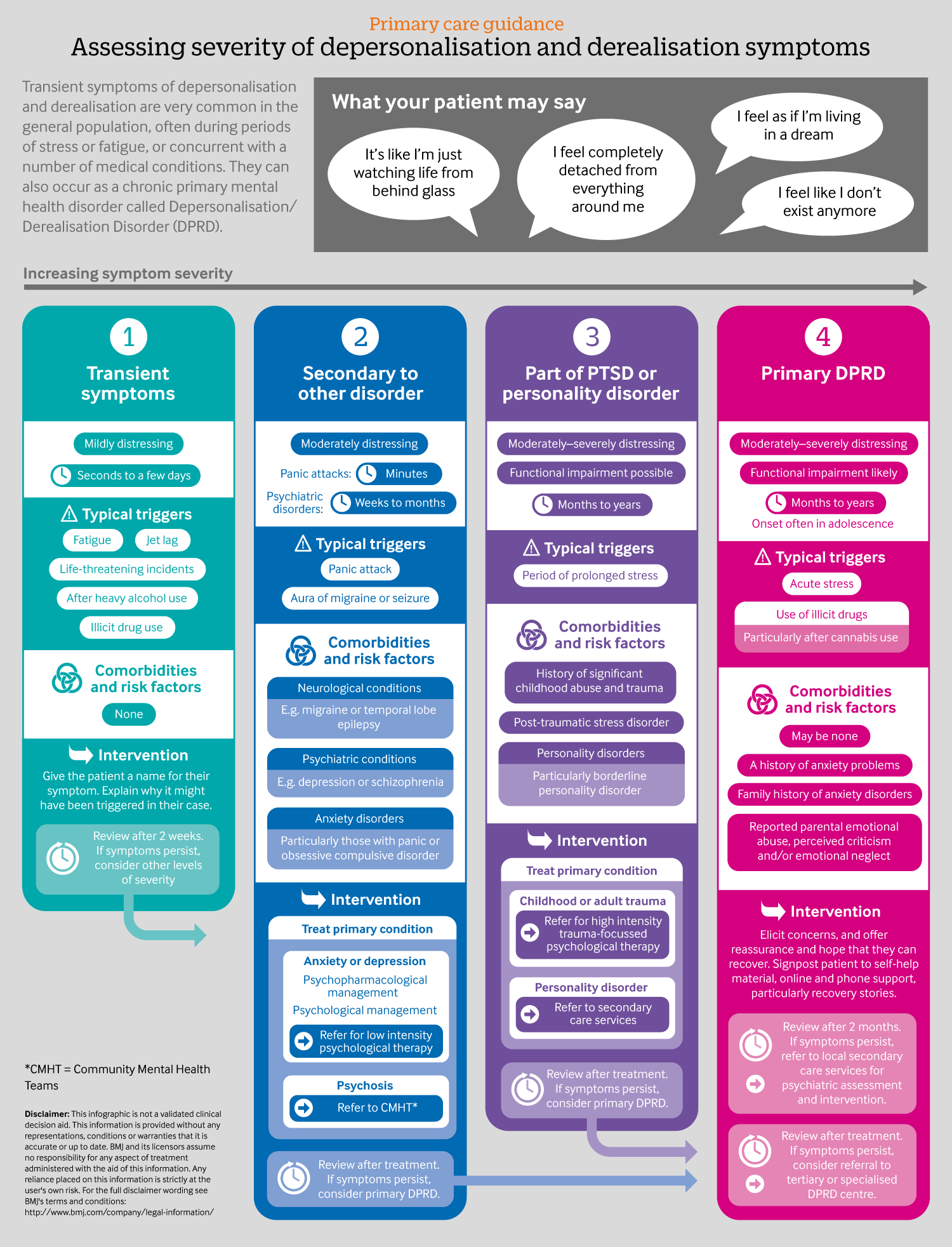 Infographic available
Click here for a visual summary of DPRD symptoms and severity, including common triggers, comorbitities, risk factors, and suggested interventions
All rapid responses
Rapid responses are electronic letters to the editor. They enable our users to debate issues raised in articles published on thebmj.com. Although a selection of rapid responses will be included online and in print as readers' letters, their first appearance online means that they are published articles. If you need the url (web address) of an individual response, perhaps for citation purposes, simply click on the response headline and copy the url from the browser window. Letters are indexed in PubMed.
Although there may be other reasons for someone to present with depersonalisation and/or derealisation, depression is a serious possibility and should not be forgotten; it is probably a good idea to check and to always ask (gently) whether your patient is suffering with suicidal thoughts.
Competing interests: No competing interests
01 April 2017
Peter Balfour
Addiction Psychiatrist
-
-
6 Oaken Street, Ashton-u-Lyne, Lancs OL7 9NS
Good to see an article on depersonalisation and derealisation. As a GP with a special interest in mental health I have had the privilege of meeting many young people with these symptoms during the course of 13 years working in the Icebreak service for 'emerging personality disorder' at The Zone in Plymouth.
For me perhaps the most important issue is buried in the article and not in the info-graphic – an understanding that they are often part of a physiological response to adversity fear or trauma. Depersonalisation and derealisation are part of the wider group of experiences known as dissociative symptoms; they are mainly neurophysiological - except when caused by underlying neurological diseases – and represent a break down in the brain's normal ability to create a coherent representation of the external world and one's body within it. Sometimes possibly, as suggested by the authors, in a helpful way, and becoming problematic when prolonged or severe.
I have now started focusing discussion about the range of often distressing dissociative symptoms, including fugue state, along with other perceptual problems such as auditory, visual and somatic hallucinations, on a process of education and understanding for the patient. Individual patients are asking questions like, "why am I like this?", and neurophysiological explanations, ie that the there has been a temporary (or longer term) break down in the brain normal ability to let us experience our body-in-space, often appear to be profoundly reassuring. These, alongside explanations that they are understandable, although distressing, consequences of trauma, relationship problems and genetic inheritance, help individuals understand why they feel as they do in a way that diagnosis with a 'disorder' does not.
Competing interests: No competing interests
25 March 2017
Richard Byng
GP and Professor in Primary Care Research
Plymouth University Peninsula Schools of Medicine and Dentistry
N14, ITTC, Tamar Science Park, Plymouth