News
Consultant productivity drops as result of poor workforce planning
BMJ
2017
;
356
doi: https://doi.org/10.1136/bmj.j1552
(Published 27 March 2017)
Cite this as:

BMJ

2017;356:j1552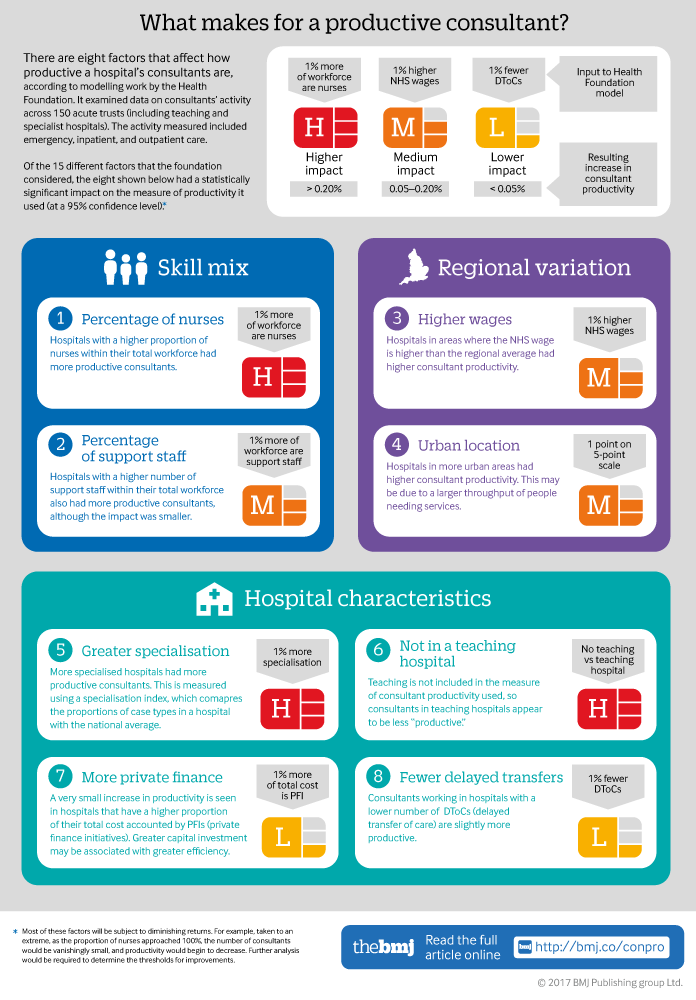 Infographic available
Click here for a visual overview of the eight factors that had an impact on consultant productivity, according to the Health Foundation report.
The productivity of consultants working in NHS acute care hospitals in England has fallen by an average of 2.3% over the past six years, new research has shown.1
The think tank the Health Foundation, which conducted the research, attributed the fall to poor workforce planning. It highlighted a 22% rise in the number of NHS consultants over the past six years, whereas the number of nurses rose by just 1%.
Anita Charlesworth, director of research and economics at the Health Foundation and coauthor of the paper, said, "Consultant productivity has been falling, but not because staff aren't working incredibly hard. NHS consultants work in a system, and if that system isn't well designed they can't be productive.
"Much better workforce planning is critical. Increasing the number of consultants by a fifth …
View Full Text
Sign in
Log in using your username and password
Log in through your institution
Article Access
Article access for 1 day
The PDF version can be downloaded as your personal record